Printmaking Supplies
Showing all 3 results
Sale!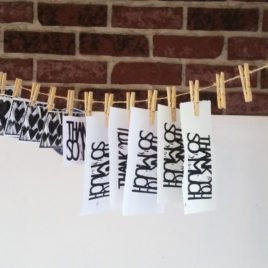 Print Drying Line
This custom line for print drying takes up just a few feet of space. Intended to hang in the corner of your studio (or kitchen) or across a doorway. The print drying line comes with 2 screw-hooks. The line has loops on either end that loop over these hooks. This item is handmade using twine and clothespins. It spans about 5 feet from loop to loop with a hanging area of approximately 3.5 feet. Each lines varies a little in length because each is handmade.
$

25.00
Add to cart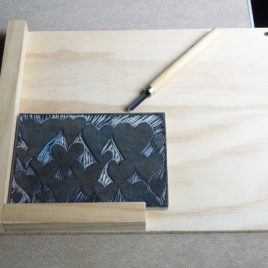 Bench Hook for Carving Linoleum Plates
Use a bench hook to carve your linocut and relief plates to keep your fingers safe. I construct each bench hook by hand. Each has a lip at the top, as well as on the side so you can carve your plate at a natural angle. Each handmade bench hook is created from an oak panel, pine trim, antique brass screws, and primed with walnut oil for a natural and non toxic finish. It measures 11.5" x 9" x 1". These are custom made. Select whether you are right or left handed from the menu below. This listing only includes the bench hook. The linoleum plate, carving tool, and press are sold separately in the shop.
$

30.00
Select options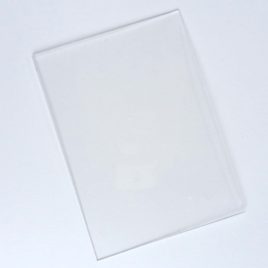 Drypoint Etching Plates (2)
Two 5″ x 6″ plexi-glass intaglio plates with a protective plastic on each side. Both sides are ready to etch.
$

5.00
Add to cart