Printmaking Kits
Showing the single result
Add a drypoint etching or linocut kit or both to your press order to get Free Shipping to the US, UK or Canada. From another country? Contact me and I'll add your home too!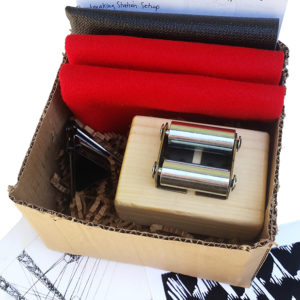 Printmaking Kit in a Box
A Mini Etching Press in a Box
With this handheld etching press you can print intaglio, relief and monoprints. This printmaking kit includes the handheld pocket press, plus everything you need to set up your printmaking station at home or on the go. It comes with my handheld 3.5" x 2.5" pocket press , an 8" x 9" rubber platen (also known as the press bed), 2 8" x 9" felt blankets, illustrated instructions, and a large clip for clipping the setup to the edge of a desk or table. Watch the video below to see how it works!
$

64.00
Add to cart