Just the Magic Platen
This listing is for printmakers who already have a Pocket Press and want to upgrade to a Magic Platen. The Magic Platen's surface is about 9.25″ x 11.5″ with a 9.25″ x 10″ printmaking surface. However, it can hold plates larger than the surface area. Refer to my blog Big Printmaking at Home.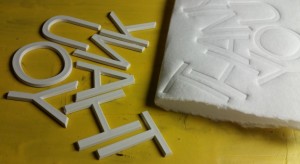 Why is a Magic Platen better? The Magic Platen has even more non-slip power than the rubber platen. This means less likelihood of the plate shifting during printing, but it also means you can lay objects directly on the platen to print, like these letters I use to create cards.
The platen creates a better emboss because it is firmer than the rubber platen. It can be used on counter tops and all kinds of surfaces, whereas the rubber platen must be clipped to a tabletop in order to work.
The Magic Platen easy to store on a single nail. Simply clip your felt blankets and hang it so it faces the wall.
Save
Save
Only logged in customers who have purchased this product may leave a review.