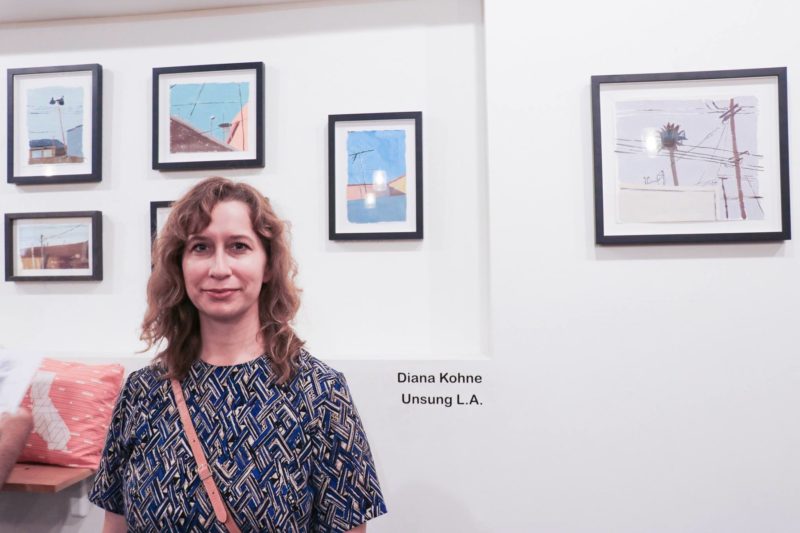 I am Diana Kohne, a painter, printmaker, press builder and parent living in Pasadena, California. My printmaking focuses on infrastructure and has been exhibited nationally. My prints have been shown around Los Angeles, were a part of the International Survey of Printmaking at the Firehouse Gallery in Baton Rouge, and the infrastructure themed show "Tracing Lines" at the Ohio State University Urban Arts Space, where I had the pleasure of teaching my printmaking workshop. I've had print tables in various artwalks and craft shows from Anaheim to Venice Beach, as well! I'm posing with my paintings in the photo. To see more of them, visit www.dianakohne.com.
I have been building presses and platens since October 2015, when it occurred to me to make my press design available to fellow printmakers. I developed this mini printmaking press to make printmaking easy and accessible for all artists and crafters. I've been using this setup for a decade now to press all of my prints. I like it so much I never did get a floor or tabletop printing press. This is a site to showcase my printmaking and related experiments, and to sell my handheld presses to fellow print makers. Each press is handmade by me and I make a new batch of presses each season. Sign up for my newsletter to be alerted.
My Press in the Press
As seen in Issue One of Pressing Matters Magazine!
Creative Bloq – Gift Ideas for Graphic Designers
Social Media