& Policies
When will you list more presses?
Getting the materials to make presses can take some time, so I've decided to work on getting the materials and then creating a batch of presses, rather than the typical made to order set up. The best way to be alerted when I make a new batch is to sign up for my newsletter here. I tend to make one batch per season. And they tend to sell out quickly. So sign up! Or follow me on Instagram. I always let my followers know.
Do you still offer the Magic Platen or Registration Platen?
Not for now. I no longer have the outdoor studio space needed to make them, BUT I have another design I am working on that may just work and won't be contingent on whether I have outdoor space or not. To be posted on new developments sign up for the newsletter.
What are the differences between the Kit in a Box, the Magic Platen, and the Registration Platen set ups?
The Kit in a Box and the Magic Platen set up are both good for pressing prints using wet paper only. While intaglio and monotype prints always use wet paper, sometimes relief printer don't want wet their paper.
The Registration Platen set up is for relief printmakers who want to use dry paper and/or create reduction prints. The pegs make registration easy. All you need is a hole punch.
What are the advantages of a Magic Platen over a Kit in a Box?
The Magic Platen can be used on tables or counter tops that cannot be clipped onto. It has a larger printmaking surface area, and is easier to store and set up. It makes experimental printmaking processes like emboss or printing leaves easier because it is a firmer surface that better prevents objects from moving when the press rolls over them.
Can you press etchings with a Registration Platen set up?
Yes. You will need to use wet paper, and the pegs will limit the size of your plate because your press will not be able to roll past the pegs.
Do you offer bulk discounts?
Yes. Please contact me at Diana [at] printmakingpress.com. I love teachers.
Where else can I buy a pocket press?
This is it. I can make you a special order through Etsy if you prefer.
Can you help me with my press?
Absolutely. I consider it part of my job to coach customers on printing and give advice about supplies. Contact me at Diana [at] printmakingpress.com with any questions.
What kind of press do I need?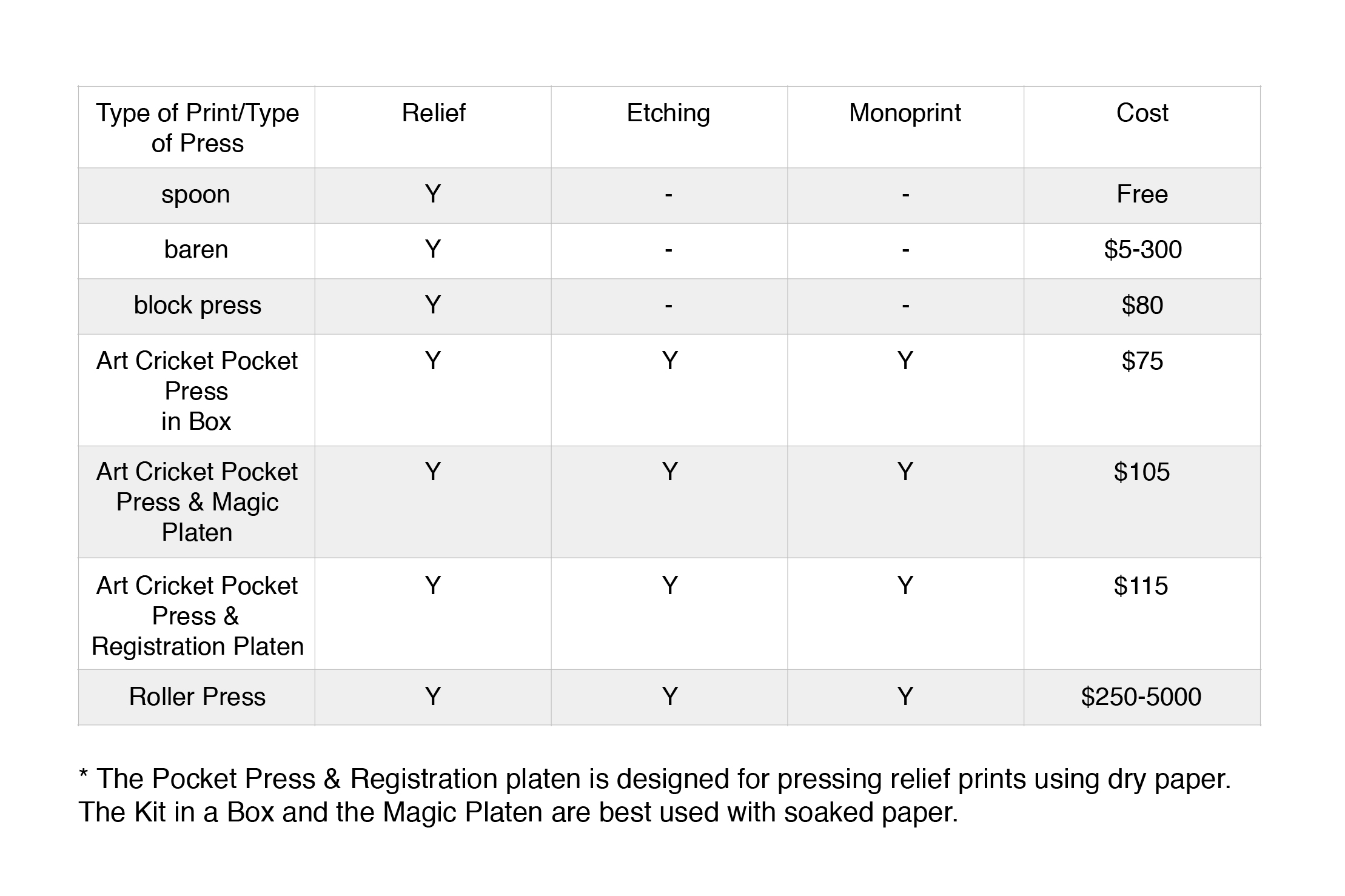 When will I receive my order?
Typically, in 1-3 weeks. Each press and platen is made by me by hand. Each kit is made to order and takes several days to make. As a small business, I support small businesses when ordering supplies. When I run out of materials it can take days to weeks to restock. Let me know if you need an order quickly and I will work with you.
I ship Kits in a Box using First Class Mail (average of 1-3 days) and Platen set ups using Priority Mail (average of 1-2 days).
What about overseas order?
Overseas orders can take up to a month or slightly more because shipping time varies. Be aware that your country may charge custom or import taxes that you are responsible for. Customs can also cause delays.
Do you accept returns?
Yes, but please contact me first if you are having trouble printing. I have been able to coach all of my customers with printing issues and have had no returns yet. If you would like to return your press you will be refunded the price of your order. Shipping cannot be refunded.