Printmaking Kit in a Box
A Mini Etching Press in a Box
My handheld etching press can print intaglio, relief and monoprints. This printmaking kit includes the handheld pocket press, plus everything you need to set up your printmaking station at home or on the go.
It comes with my 3.5″ x 2.5″ pocket press, an 8″ x 9″ rubber platen (also known as the press bed), two 8″ x 9″ felt blankets, illustrated instructions, and a large clip for clipping the setup to the edge of a desk or table.
Each press is handmade by me. I saw, drill and sand each wood block before affixing the roller hardware and hand branding every press with the Art Cricket seal. I recommend starting with a water based ink and soaking high quality papers for 20-30 minutes. Refer to my blog for insight on using this press with a variety of inks, paints and substrates.
Watch the video below to see how it works!
I strive to be a zero waste company, and this may mean the color of your felt or press parts will vary depending on which option is greenest. Your kit may arrive in a padded envelope instead of a box for the same reason.
Please be aware that overseas orders may incur fees at customs, and for this reason may be held at your post office.
Press out of stock? I always post on Instagram when I make a new batch! Find me at @printmakingpress.
Out of stock
Description
Watch the video to see how to set up your printmaking station and print using your mini etching press.
Only logged in customers who have purchased this product may leave a review.
You may also like…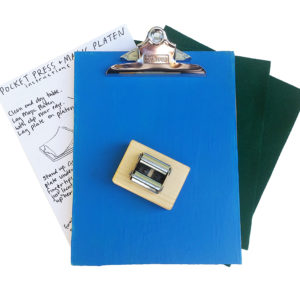 Pocket Printmaking Press + Magic Platen
A small yet mighty etching press
I designed this handheld press and Magic Platen for serious printmakers who need an alternative to a floor or tabletop press. This handheld small etching press concentrates your strength so you are able to print your etchings, monoprints, linoleum, woodcut and letterpress plates by rolling over your plate in rows. The Magic Platen stays put on the tabletop and holds your plate in place while you press because the yellow rubber coating causes objects to resist movement when pressure is applied. This blue platform is useful for embossing and collagraph prints because you can lay materials directly on the platen and they won't move when you roll over them with your press. I use it to create cards and prints with objects likes alphabet refrigerator magnets, wire shapes, cutouts, textured cloth, leaves and flowers.
$

90.00
Read more